There have been some cancellations for our basketball games this weekend. Girls JV canceled at Tri-City Friday. Girls and Boys JV canceled against DGS Saturday. Friday game times are as follows: BJV: 4:30pm GV: 6:00pm BV: 7:30pm Saturday game times are as follows: Game Times are as follows: GV: 5:00pm BV: 6:30pm
Picture retakes, high school basketball and cheer pictures are scheduled for Thursday, January 20th.
Roy-Winifred is only able to do a half girls JV game this Saturday. The game will now start at 2:30pm and the bus will leave at 10:30am.
December 31, 2021 The Centerville School District is saddened to share the news of the death of 7th grade student Jacob Olvera. Jacob was traveling with his father when they were involved in a vehicle accident on December 29th. You may find a report of this accident in the St. George Utah News. We ask that the students, staff and community members keep Jacob and his family in your thoughts and prayers. On Saturday, January 1st we will have the school counselor available at the school for grief counseling from 11am to 2pm. On Monday, January 3rd during school, we will also have grief counseling sessions available for all students, staff and family members. With Heavy Heart, John C. McGee Superintendent
Thank You to all who have selected a star off our Angel Tree! There are still plenty to choose from for those who are wanting to participate. For those still wanting a star, please come to the school commons, select a star with the age/gender you would like to shop for, than see Wendy in the office to receive the Angel with their gift suggestions. Please have your gift(s) wrapped, if more than one, please place in a bag with the Angel attached to it. All gifts need to be back to the office by Monday, December 20th.
Thursday, December 9th - Elementary Christmas Concert: Arrival Time Change - Please have your student arrive at the school at 5:45pm NOT 5:30 pm. EK - 4th Grades please meet in the library. 5th Grade please meet in the music room
It's Spelling Bee Time! Cascade County has elected not to host a county spelling bee this year. THAT'S NOT GOING TO STOP OUR SCHOOL! The Centerville School Spelling Bee contest is scheduled for Tuesday, February 8, 2022, at 8:30 A.M. The spelling bee is open to any fourth, fifth, sixth, seventh or eighth grade student attending Centerville School. Come and support our spellers!!
Reminder: NO LEAP/SAM Thursday, December 9th Monday, December 13th due to Christmas Concerts AND NO LEAP/SAM Wednesday, December 22nd Christmas breaks begins
Christmas Concerts: Elementary Concert EK-5th Grades Thursday, December 9th at 6:00pm Junior High/High School 6th-12th Grades Monday, December 13th at 6:00 pm
Centerville Community Thanksgiving Food Drive: The Student Council invites you to participate in our annual Thanksgiving Food Drive. Help us ensure the members of our community have a bountiful holiday with their families. November 15th - 18th. There will be a prize for the class that brings the most non-perishable food items! Elementary- Ice Cream Party, Junior High - Pizza Party, High School - Movie & Popcorn. Thank you for your generosity!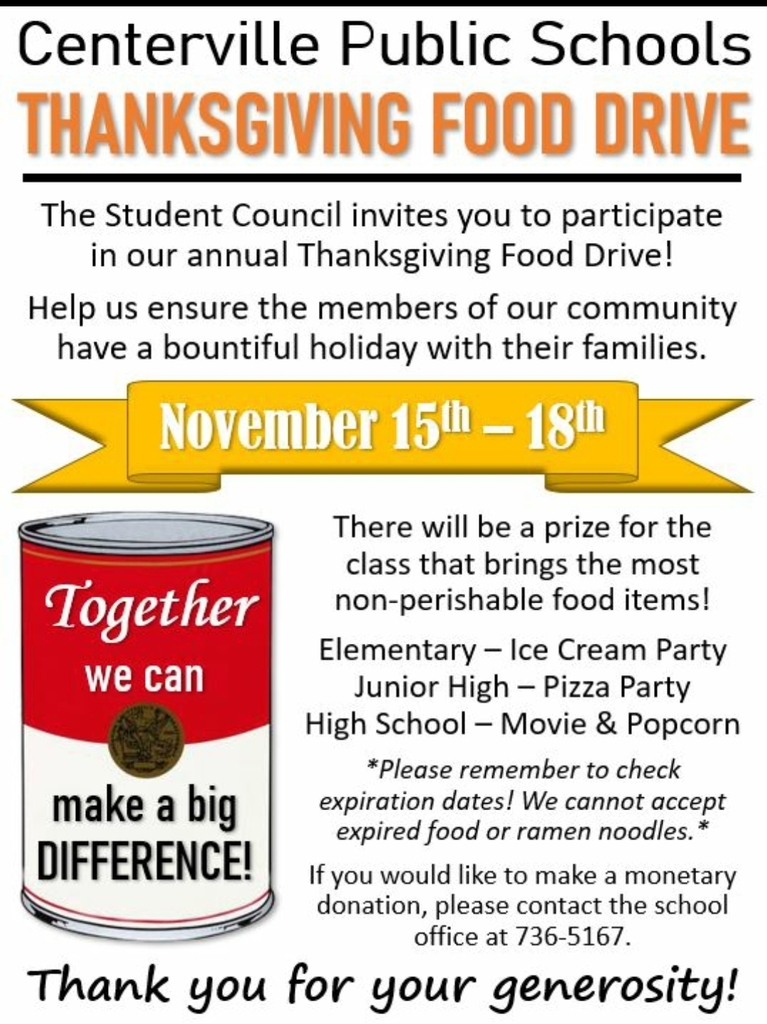 Silent Auction: I would like to thank everyone who came to the Halloween event and supported or gave items to the LEAP silent auction. The community really came together to support our students and the after school program. and No LEAP November 9th and 11th due to parent/teacher conferences.
Fall Sports Award Banquet will be held on Monday, November, 15th at 6pm in the gym.
Centerville shop class is looking for donations of used 10 ¼" brake rotors. They are building coal cart flower planters to brighten up the front of the school in honor of our mining heritage.
Tonight's (October 12th) "C" squad volleyball game against Foothills has been canceled due to Foothills not having enough players.
Lifetouch picture packets were handed out today, please check with your student either today or tomorrow. Pictures can also be ordered online through mylifetouch.com. TUESDAY, OCTOBER 12TH Individual School ID Code: EVT4KCBHQ Sports Packets ID Code: EVTRKWZ2T
Close Up Meeting Sunday, October 3rd in the school commons Sophomore & Junior students and their parents. Close Up is an organization where our Sophomore and Juniors students fundraise for two years to be able to travel to Washington D.C and to New York City. "On their trip, they are provided and opportunity to have a better understanding of government institutions, history, current issues, and their role as a citizen." For more information about Close Up to to closeup.org
LOCATION CHANGE: Monday, September 20th and 27th Junior High Cross Country Meet will be at Elks Riverside Park (701 River Drive North, Great Falls MT- other side of Gibson Park)
Hello everyone, Friday's volleyball games against CJI (September 10th) have been cancelled due to a scheduling mistake by CJI. I am currently working to get them rescheduled. I tried to get GFCC and Foothills for tomorrow but they already have games scheduled. Therefore, there will not be any volleyball games this weekend. If you have any questions please let me know. Thank You, Brian Centerville A.D.
Volleyball: Just confirmed with CJI. We will play in Centerville Tuesday, October 5th starting with JH B at 4pm +15 +20 +20.